Running a gym can present its challenges but rest assured we've got you covered. We've compiled a list of business hacks for gym owners specifically tailored to help simplify operations and accelerate growth. These strategies are designed not only to attract fitness enthusiasts to your gym but also to give you a competitive advantage.
From fostering a strong gym community to leveraging cutting-edge technology these straightforward yet powerful hacks will revolutionize your fitness center.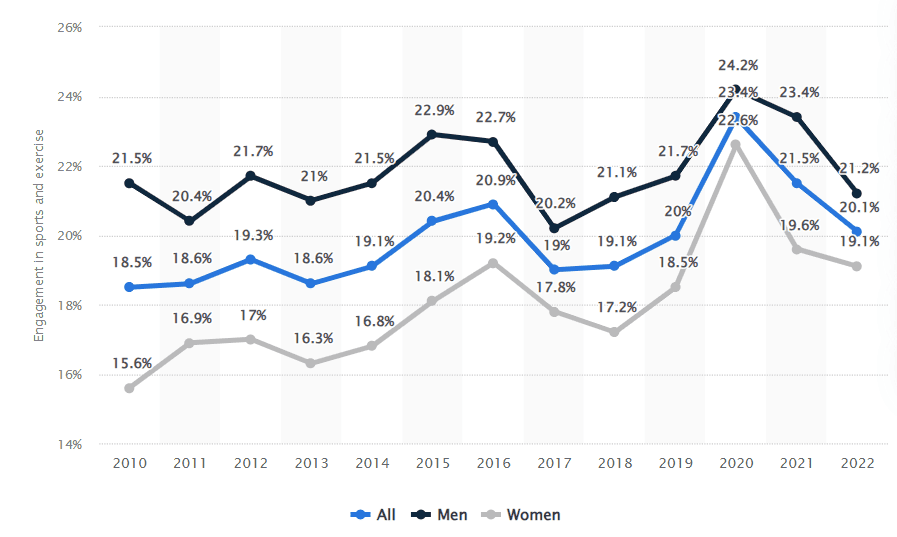 Data source: Statista "Average percentage of the population engaged in sports, exercise, and recreation per day in the United States from 2010 to 2022"
Top 10 Best Business Hacks for Gym Owners
Starting a gym business can be an exhilarating journey. It also presents its unique set of obstacles. To succeed in the fitness industry, you'll need a winning combination of strategic planning and exceptional customer service.
Whether you're just embarking on this venture or seeking to enhance your existing gym we've compiled a list of the 10 tips that will help you establish a gym business. These valuable suggestions include advertising techniques to attract customers, creating a welcoming gym community, and leveraging cutting-edge technology for a better user experience.
By adhering to these recommendations, you can transform your gym into a center for health and well-being.
Strong And Targeted Advertisements
Running a gym business starts with attracting customers. To showcase your gym's offerings and benefits, an advertising strategy is important.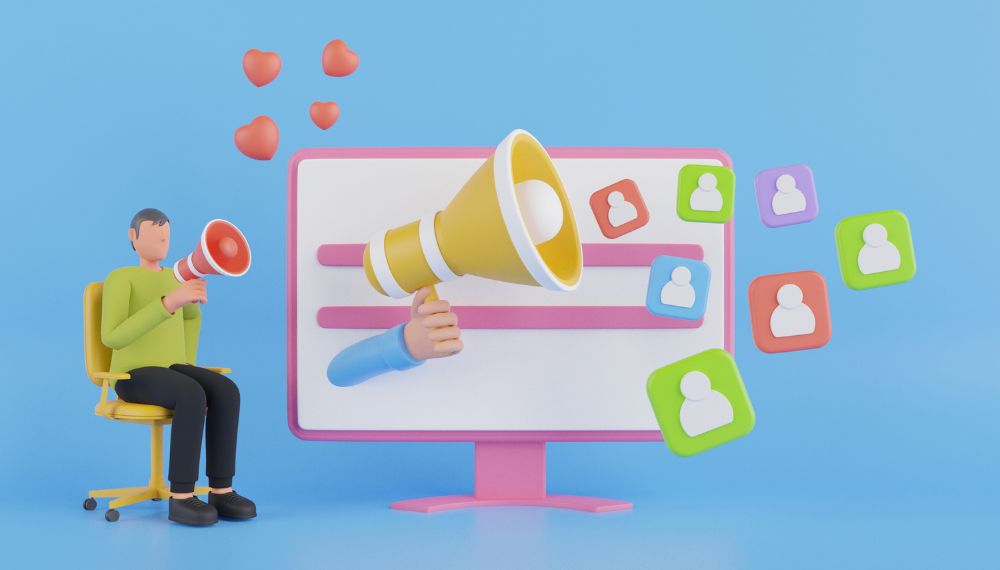 Utilize channels, like local media, targeted online advertising, and flyers to reach potential customers. Highlight the amenities of your gym's experienced trainers and any special promotions to attract people. Offering trial classes or free sessions can also encourage individuals to try out your gym and eventually become members.
Top Place For Localized Online Ads
Adwords by Google
Facebook and Instagram ads
Ads on X (Previously Twitter)
Ads on YouTube.
Membership To Build A Strong Community
Increasing the membership base and profitability is an aspect of running a gym business. To achieve this consider offering flexible membership plans that cater to customer needs.  Membership plans should be easy to understand.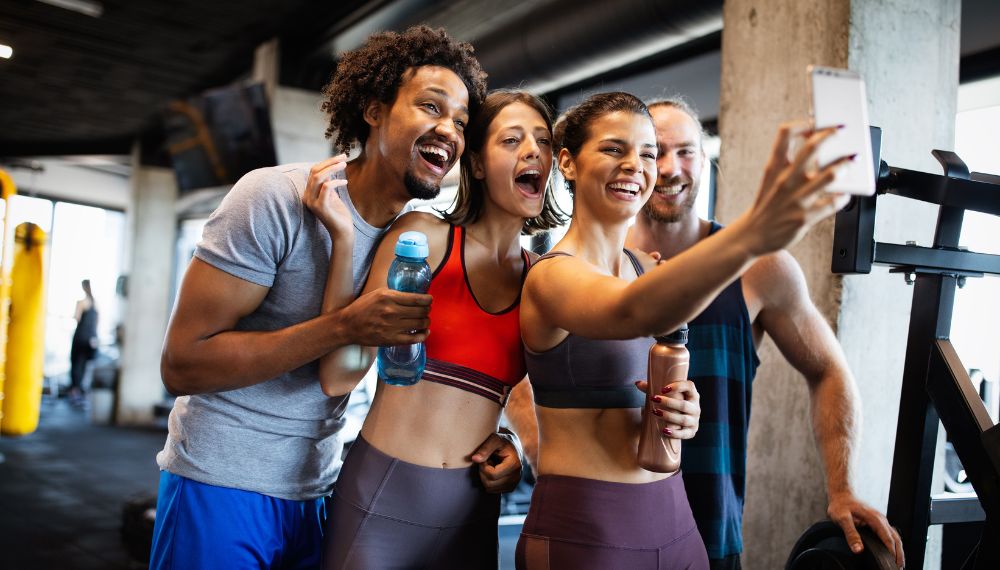 You can also provide discounted rates for long-term memberships or loyalty programs to retain existing members. Additionally organizing events and workshops will help engage your members and create a sense of community.
Happy and satisfied members are more likely to refer their friends and family thereby expanding the reach of your gym.
Gym Management Software
Using robust gym management software is essential in today's age for efficient operations. Select software that aligns with the needs of your gym such as member management, scheduling, billing, and class registration. Automation, through software, can streamline tasks so you and your staff can focus on providing customer service.
Additionally, these tools offer insights, into the attendance, preferences, and financial performance of members which can aid in making decisions.
How Gym Management Software Can Be Helpful for Your Business
Gym management software can be immensely helpful for your gym in various ways:
Streamlined Operations: The use of gym management software allows for the automation of tasks such, as checking in members, scheduling classes, and handling billing. This efficient system saves time. Reduces burdens enabling you and your staff to focus on delivering exceptional customer service and enhancing the overall experience for gym members.
Effective Member Management: With this software, you can maintain records of member information including contact details, membership status, and attendance history. This organized approach ensures access to data whenever necessary. The data also helps in promotion and marketing.
Seamless Payment Processing: The gym software facilitates efficient payment processing methods making it convenient for members to pay for their memberships, classes, or other services. By minimizing the chances of errors, it ensures a consistent cash flow for your gym.
Convenient Scheduling and Reservations: Through the software's user-friendly interface members can easily book classes or sessions with personal trainers. Automated reminders about appointments reduce instances of no-shows while keeping members engaged.
Enhanced Access Control and Security: Integrating with access control systems is a feature in gym management software. This integration ensures that only active members are granted entry into the premises. Doing it enhances security measures and prevents unauthorized access.
Valuable Data Analysis and Insights: By collecting data on member attendance patterns, preferences, and performance metrics this software provides insights, into member behavior. Utilizing this information allows you to make decisions aimed at improving your gym's offerings and optimizing efficiency.
Invest in High-Quality Equipment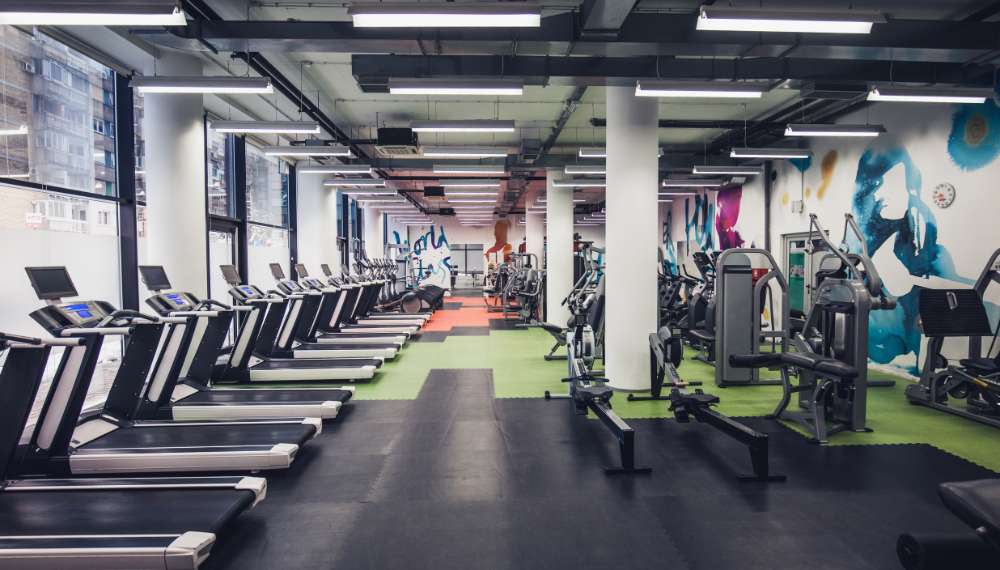 Having an equipped gym is the basic requirement for attracting and retaining customers. Make sure your gym provides a variety of top-notch exercise equipment that caters to fitness levels and interests. Regularly. Update the equipment to create a comfortable workout environment.
By investing in state-of-the-art fitness equipment, you not only impress your customers but also demonstrate your dedication to their fitness journey.
Deliver Exceptional Customer Service
Customer service is the foundation of any business including a gym business. Train your staff to be friendly, approachable, and knowledgeable about fitness programs and equipment.
Engage regularly with your members by seeking their feedback and suggestions for improving their gym experience. Address any concerns promptly. Create a welcoming atmosphere that encourages customers to keep coming. Remember, the more you interact with your customers and satisfy them with solutions, the more loyal customers you get.
Cultivate a Thriving Gym Community
Creating a sense of community within your gym can greatly enhance member retention and referrals. Organize group fitness classes, workshops, or social events where members can connect with one another and provide support.
Encourage interaction, on social media platforms that allow members to share their fitness accomplishments and motivate each other.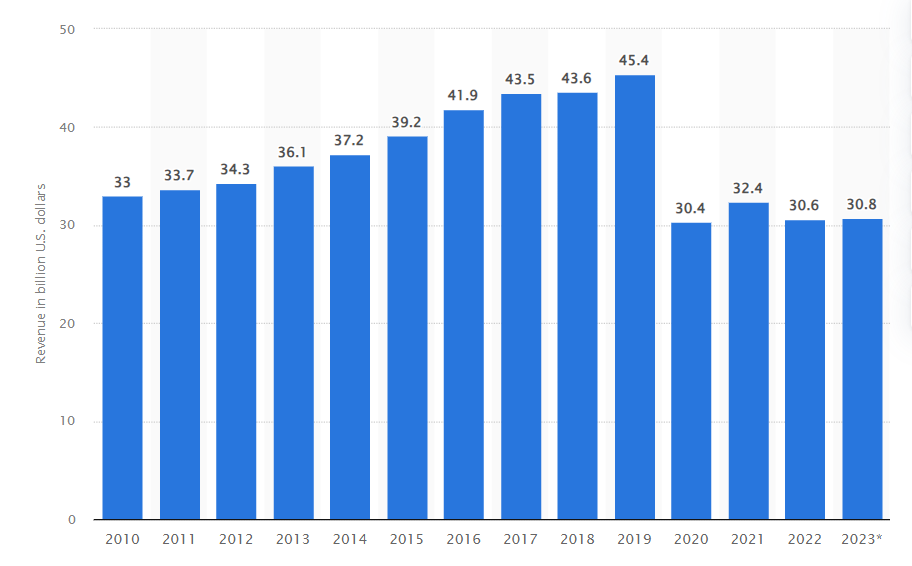 Data source: Statista "Revenue of the fitness, health and gym club industry in the United States from 2012 to 2022, with a forecast for 2023"
Building a sense of community at your gym is crucial, to creating an environment that feels like a home for your members fostering loyalty and pride.
Offer Customized Training Programs
People who go to the gym have different requirements and targets. The more you customize the training program the more people you will be able to attract. A strong customized training program for gym enthusiasts can help you get the required edge over your competitors.
Employ experienced trainers who can tailor workouts to meet fitness goals and address the needs of different customers. Personalized attention ensures a pleasant and fruitful workout. It also enhances member satisfaction and progress. Regularly assess members' progress and make adjustments to keep them motivated and engaged.
Implement Effective Marketing Strategies
In addition to advertising running a gym business requires strong marketing strategies. Utilize social media marketing, email campaigns, and referral programs to attract customers while keeping existing ones engaged. Collaborating with businesses for cross-promotions and sponsoring community events can boost visibility for your gym driving footfall.
Maintain a Hygienic Environment
Maintaining a hygienic gym is essential in ensuring the safety and satisfaction of your members. Regularly sanitize all equipment, locker rooms, and common areas. Display hygiene guidelines that encourage members to wipe down equipment after use.
Maintaining a tidy environment presents a positive image of your gym. It also demonstrates your dedication to the well-being of your members. Especially after the pandemic people are far more sensitive towards hygiene than ever before. So hygiene is crucial for your business.
Choose Trustworthy Gym Software Providers
When deciding on gym management software it is important to select a provider known for their services and customer support. Conduct research and read reviews. Compare features to find the best fit, for your gym's specific needs.
Every gym has a different requirement. And if you are planning to implement all the above-mentioned tips then the requirement of a robust software that can handle everything is more important.
A dependable software provider will ensure an implementation process and train your staff for a smooth operation. Any software provider that is willing to accommodate your requirements, assist you regularly, ready to ensure that your staff is trained properly and works on the integrated system can be your preferred choice.
Top Gym Management Software You Can Use
Mindbody
PushPress
RhinoFit
Gymdesk
Wodify
Virtuagym
FitSW
TeamUp
Operating a gym business requires a combination of strategies, exceptional customer service, and an understanding of your member's requirements. By incorporating these 10 recommendations you can establish your gym as a center, for fitness attracting and retaining members while fostering a supportive and thriving community. Embrace cutting-edge technology, invest in high-quality equipment, and prioritize customer experiences to elevate your gym business to levels of achievement.
Conclusion
In conclusion, running a successful gym business requires a well-rounded approach that combines effective strategies, outstanding customer service, and the integration of modern technology. From attracting customers through smart and targeted advertising and personalized training programs to fostering a thriving gym community, each aspect plays a crucial role in creating a gym that stands out in the competitive fitness industry.
Frequently Asked Questions (FAQs)
What are the 3 most important factors to do to attract more customers to my gym?
Effective and targeted advertising, best-quality equipment, and a user-friendly environment are three top key factors to attract more customers to your gym.
Can gym membership increase profitability?
Yes. Gym membership increases profitability in the long run. You might charge less for members but you gain a long-lasting subscription and loyal customers.
The most important factor that gym management software handles?
Gym management software streamlines operations and improves customer compliance.
How can technology help improve member engagement?
Using technology like gym management software will improve customer complaints and help streamline your business. Using technologies like social media, mobile apps, and websites will help you enhance your reach and brand value. It will also help you in gaining new customers and online promotion and marketing.